Notice Board
Here you get general news about Bauhaus-Archiv!
The programme 01/2017 is now online available!
Estate of the Bauhaus figures Hinnerk and Lou Scheper secured for Berlin
On the centenary of the Bauhaus in 2019, the Bauhaus-Archiv / Museum für Gestaltung will be moving into a new building on the existing site at Klingelhöferstrasse 14. We are therefore not able to give you requested object as a loan.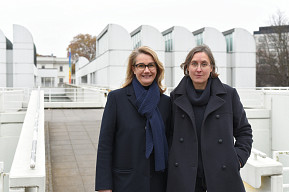 In dem kürzlich gestarteten Bauhaus Agenten Programm wird in Zusammenarbeit mit Schulen ein facettenreiches museumspädagogisches Bildungsprogramm für das Bauhaus-Archiv / Museum für Gestaltung konzipiert.
The Bauhaus-Archiv warmly welcomes refugees.
Gerade erschienen: bauhaus vorträge. Gastredner am Weimarer Bauhaus 1919-1925 in der Reihe "Neue Bauhausbücher. Neue Zählung" Band 4, herausgegeben von Peter Bernhard für das Bauhaus-Archiv Berlin