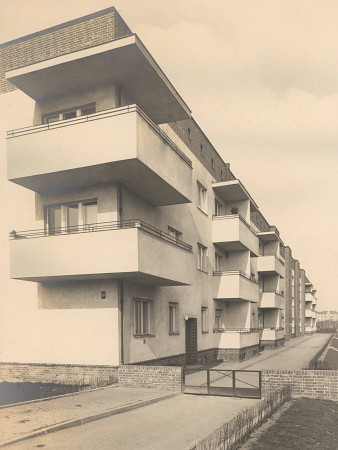 Apartment – Housing Estate – City
1 Oct. 2022 – 28 Feb. 2023 temporary bauhaus-archiv Free admission No registration required Open to pupils, grade 6 and up, teachers and the interested public This programme is offered in German only and is not accessible to the physically disabled.

At three media stations installed on the gallery at the temporary bauhaus-archiv, pupils and interested visitors can now learn more about Berlin's residential housing expansion in the 1920s. Three silent movies from our archive, all produced in the 1920s, along with selected publications and tablets with links to in-depth websites provide visitors with on-site multimedia tools that address such questions as: How do we want to live? What does it mean to live? Where do we live? Berlin's population rose to four million inhabitants in the 1920s. In response to the shortage of residential space, housing estates created some 135,000 new apartments from 1924 to 1930. Bauhaus instructors and students were also involved, contributing designs and proposals for new residential forms.

If your school class is participating in the competition, we cordially invite you to investigate and research at the temporary bauhaus-archiv!

For more information and material, visit the website of the Körber-Stiftung. Registration is not required, but we would appreciate notification of your visit in advance. Simply email Friederike Holländer, head of the education and outreach at the Bauhaus-Archiv .