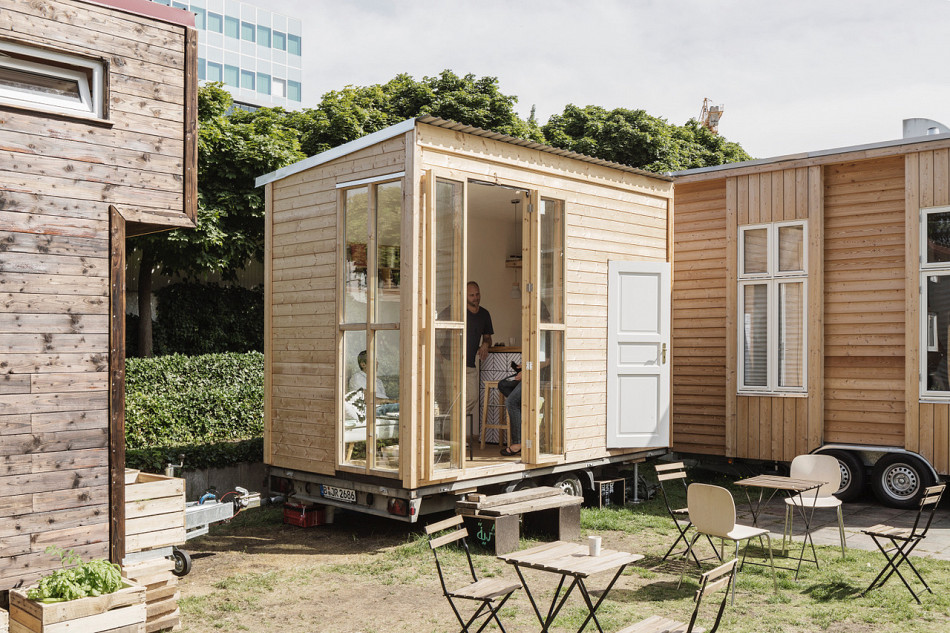 Bauhaus Campus Berlin
What are the alternatives to shipping container communities? How should we shape neighborhoods in an immigration society? In what ways must we reinvent work, learning, and education in order to master the global challenges of the future?

The Bauhaus Campus Berlin was an artistic experiment at the Bauhaus-Archiv / Museum für Gestaltung, exploring new approaches in the fields of education and construction.

Over the course of one year, starting in March 2017, the museum's open outdoor area was transformed into a space to promote the idea of democratic utopia for people with and without German citizenship. On the campus, "students" could study, build, and research new and more equitable forms of interaction and coexistence. The experiment is modeled after the Bauhaus itself, an educational institution that re-imagined education and construction a century ago. The temporary campus was installed by a variety of individuals from the fields of design, culture, economy and science as well as from the start-up community. The campus was composed of "Tiny Houses": mobile architectural structures, usually no larger than a parking space (10 m²). The project was launched in collaboration with various initatives: 100-Euro-Apartment, New Work Studio, Refunc, ConstructLab, Cabin Spacey/Erwin Thoma, Retreat, Project Café Basic Income, aVOID, Holy Foods House, Gorenflos Architekten, Goldeimer, HS Rosenheim and House Of Tiny Systems. In self-constructed Tiny Houses, the community has approached innovative topics such as minimal living space, third places, housing on roofs and grain silos, co-working for refugees, off-grid Housing, Terra Preta, cryptocurrency, food sharing and open workshops. Bauhaus-Archiv visitors, residents and families from the neighborhood and creative minds involved in the fields of education and construction were welcomed to the campus.

The Tinyhouse University (TinyU) is a Berlin based collective of designers, education hackers and newcomers. TinyU was founded 2015 by Van Bo Le-Mentzel. The aim is to rethink social neighborhoods in a creative way.