Adults
Whether as an individual visitor or in a group: adults who want to get a deeper insight into the themes of the exhibitions or in contemporary discourses on design and architecture will find appropriate offers in the Bauhaus Archive.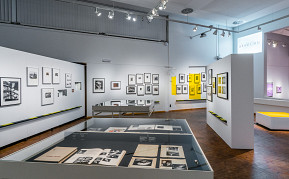 For individual visitors: at 2 p.m. a guided tour in German.
Enjoy a relaxed brunch at the Bauhaus Café before your guide begins an informative tour on the exhibition currently showing.
The "bauhaus-special" is host to a hugely diverse range of events!
The Bauhaus-Archiv offers barrier-free special tours several times a year.
Bauhaus tours are held in sites devoted to the modern age, in Berlin and the surrounding region.
During the guided tours, visitors learn fascinating facts and background information about Bauhaus, whose exhibits are a source of many interesting stories or about the special exhibition.
Groups of adults from ten to a maximum 25 paying persons pay the discount admission price after advance registration (€ 5 per person)!