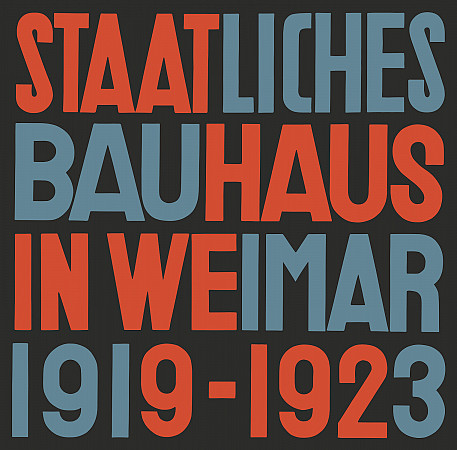 Staatliches Bauhaus Weimar 1919–1923
Edited by Lars Müller in collaboration with the Bauhaus-Archiv / Museum für Gestaltung

This facsimile of the first Bauhaus catalogue from 1923 is supplemented by a commentary by Astrid Bähr that places the publication, long out of print, in a historical context and documents the Bauhaus from its idea to its establishment as a renowned art and design school.

In 1919, Walter Gropius opened the Bauhaus in Weimar with a radical teaching approach. Four years passed before the first exhibition took place, which conveys a new approach to art to the enthusiastic public and carries the school's ideas all over the world.
The catalogue Staatliches Bauhaus Weimar 1919–1923 was published in 1923 to accompany this first public appearance. With the help of this interdisciplinary catalogue, the idea and potential of the Bauhaus found its way onto paper for the first time. In addition to numerous project presentations, the theoretical approaches of Paul Klee, Wassily Kandinsky and Gertrud Grunow convey the teaching methods of the various masters. Gropius' preface traces the structure of the school and presents the unique reform approach that demands and teaches the unity of technology and art. The illustrations from the preliminary course and the various workshops provide insights into training and production at the Bauhaus.
With the original layout by László Moholy-Nagy and the cover designed by Herbert Bayer, the book is an important testimony to that legendary avant-garde movement and sheds light on its work and aspirations since the beginning of the Bauhaus.
The German facsimile is accompanied by the first full English translation of the catalogue, making it accessible to an international audience.

Available at the bauhaus-shop and at Lars Müller Publishers.