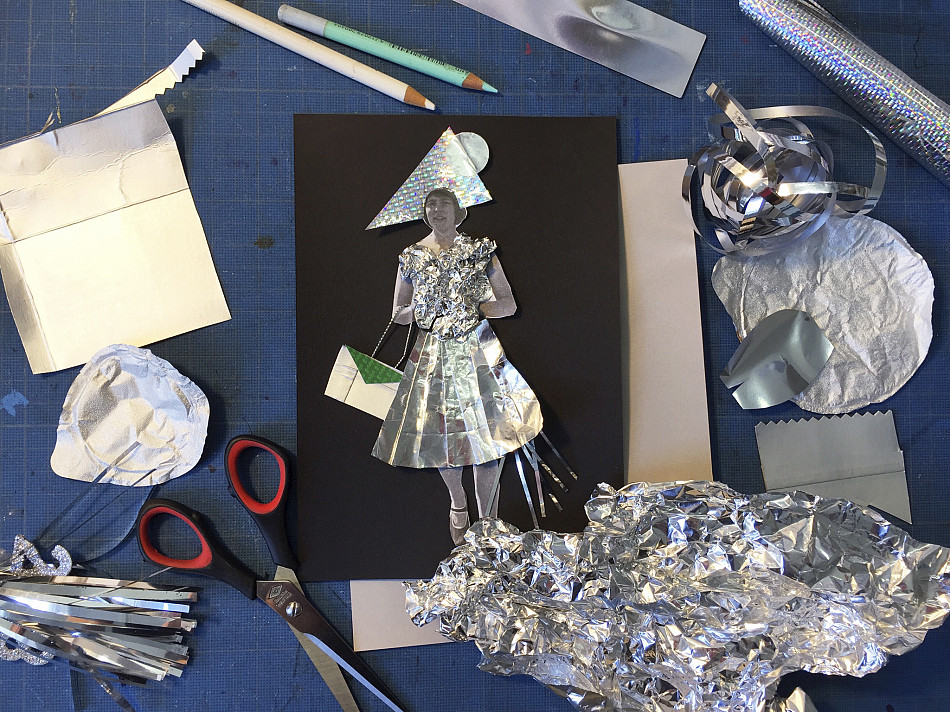 bauhaus_worksheet #7: Metallic Fashion
The students and instructors of the Bauhaus Dessau were known for throwing legendary parties. They often had a motto which inspired the Bauhäusler to dress up in imaginative costumes. At the famous "Metallic Party", the guests arrived wearing metal spoons as breastplates, cooking pots or crowns made of aluminium foil.

Download the bauhaus_worksheet #7
You'll need:
• scissors
• glue
• pencil
• dark-coloured paper
• silver snippets (e.g. sweet wrappers)
• aluminium foil
• metallic foil


Print out the bauhaus_worksheet #7.


Cut out the figures of Ise and Walter along the dotted lines.


Paste the figures in the middle of separate pieces of paper (one on each piece).


To make the costumes, you'll need shiny, metallic paper.
Tip: You are sure to find suitable materials in your trash at home, e.g. the reverse side of chocolate wrappers, Tetrapack containers or the packages of chocolate marshmallow puffs.


With your pencil, trace out the shape of the costume top and bottom, cut them out and paste the clothing onto the figures.
Another tip: Roll, fold and fray the edges of the paper or foil to create fancy-looking hats, skirts or capes.


After you've finished your costumes and dressed up Ise and Walter, you can add party decorations in the background – balloons, streamers, disco balls, whatever you like!


Have fun at the Metallic Party!


Concept: Imke Küster