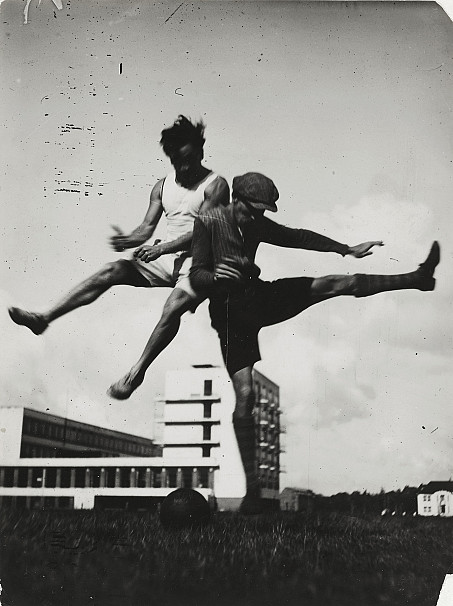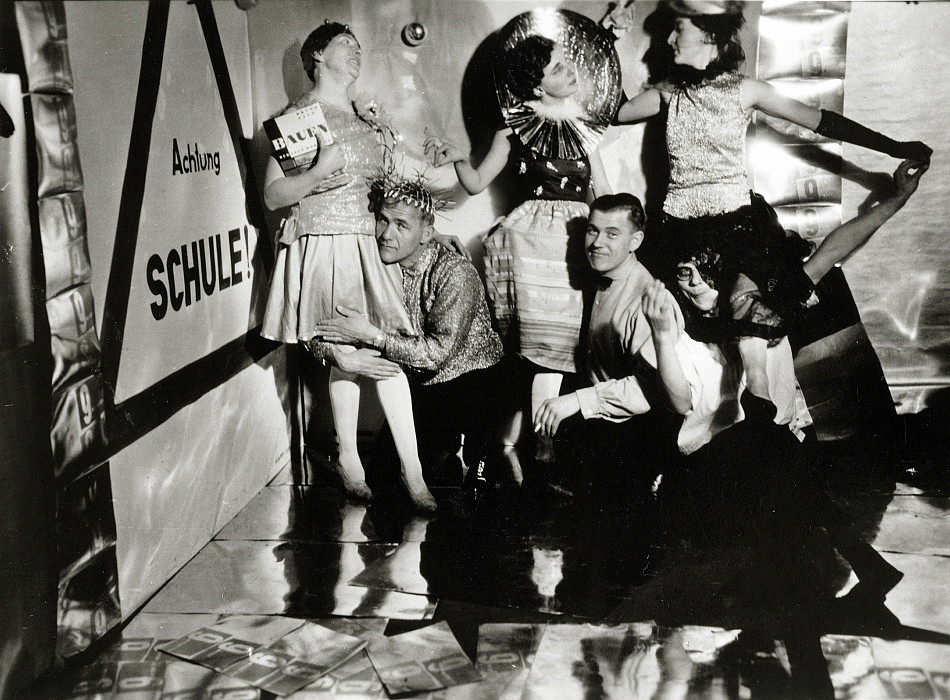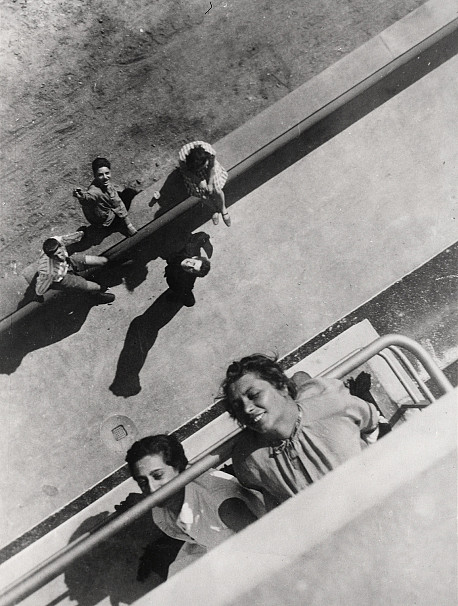 Life at the Bauhaus
During the fourteen years of its existence, the Bauhaus was threatened, contested and persecuted again and again. It was closed for political reasons no fewer than three times. Threats to its existence due to external hostility led to strong internal solidarity. Thus the Bauhaus members achieved the breakthrough to a new era not only through the quality of their collaboration, but also through the life they shared at the Bauhaus.

The 1919 manifesto of the Bauhaus written by its founder, Walter Gropius, already announced as firm components of the programme: 'Theatre, lectures, poetry, music, costume parties. Establishing amusing ceremonials at these get-togethers.' There was also the fact that they lived and ate together, with recreational activities and sports, for which the Bauhaus building in Dessau provided many opportunities. The students recorded their life together in numerous photographs. Sport shots in front of the Bauhaus's modern architecture with its bright balconies and window surfaces reflect an embrace of a modern lifestyle that included the whole person – body, mind and soul.

At the famous Bauhaus parties, teachers and students gave free rein to their creative talents and enjoyment of design. Weeks were spent on organizing and designing lantern parties, dragon parties, Christmas parties and also motto parties such as the 'Beard, Nose and Heart Party' or the 'Metallic Party'. Almost all of the workshops were involved in implementing them. The parties promoted contact between the college and the public, as well as a common spirit and the development of the 'play instinct'. Inspired by Friedrich Schiller's On the Aesthetic Education of Man, Oskar Schlemmer recognized that play was the force that made creativity possible in the first place, precisely through non-purposeful activity. He planned the large public parties and also used them as a kind of experimental stage for the theatre workshop that he directed. While the parties held during the Weimar period still had something of the spirit of the nature-loving 'Wandervogel' rambling club, in Dessau they became cultural events. The dancing was now no longer done to the accordion, but to the jazz sounds of the Bauhaus Band, which soon rose to fame outside of the college as well.

The Bauhaus's continuing reputation is thus due not least to a comprehensive approach in which modernity and progressiveness were experimented with in many different areas of life. After the closure of the Bauhaus under pressure from the Nazis, the emigré Bauhaus members took this attitude to life with them all over the world.