The Bauhaus-Archiv / Museum für Gestaltung
Berlin's Bauhaus-Archiv / Museum für Gestaltung holds the world's largest collection related to the history of the Bauhaus (1919–1933), the 20th century's most important school of architecture, design and art. In a building designed by the Bauhaus founder Walter Gropius, we present key works from our collection and research the history and impact of the Bauhaus.
Please note: The museum and archive are currently under construction and closed to visitors. During that time, we cannot grant any loans from our collection. Thank you for your understanding.

We welcome visitors at the temporary bauhaus-archiv!
The temporary bauhaus-archiv has reopened to the public!
Our project space while the museum is under construction
... the team of the Bauhaus-Archiv!
Image and copyright requests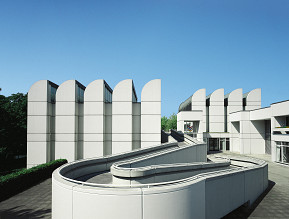 Information on the history, building and profile of the Bauhaus-Archiv
A programme funded by the European Union
Current research projects at the Bauhaus-Archiv
Publications on the Bauhaus and the Bauhaus-Archiv's activities
Highlights of the Bauhaus Centenary