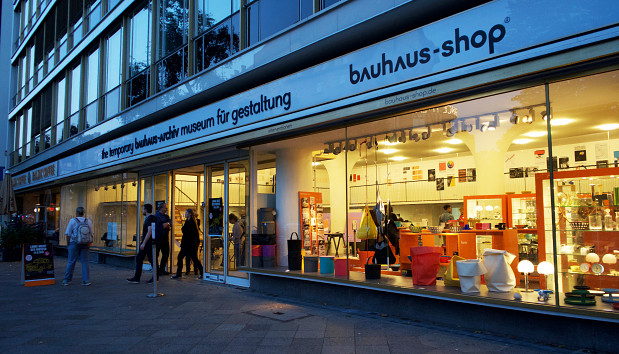 the temporary
While our museum is being renovated and extended, we welcome you at the temporary bauhaus-archiv in Berlin's Charlottenburg district. Experimentation with presentation formats, cooperations and events are the main focus of the temporary. An illustrated time line offers a quick introduction to the Bauhaus. On the upper gallery, we present the women of the Bauhaus in pictures. You will also find information on the new museum building and the Bauhaus centenary. Every Saturday, we invite you to drop by for the bauhaus_lab.
the temporary bauhaus-archiv / museum für gestaltung
Knesebeckstrasse 1-2
Berlin-Charlottenburg
Monday through Saturday, 10 a.m. to 6 p.m.
Free admission

The bauhaus-shop has moved house with us and invites you to browse its selection of Bauhaus and contemporary design objects.
the temporary is situated in the listed landmark Haus Hardenberg, which was built in 1955/1956 by the architect Paul Schwebes and is considered one of the most significant office and commercial buildings of postwar modernism in West-Berlin.
Download the new temporary bauhaus app and learn more about the world's largest Bauhaus collection! For iOS and Android.
Gallery exhibition
19.03.-30.09.2019