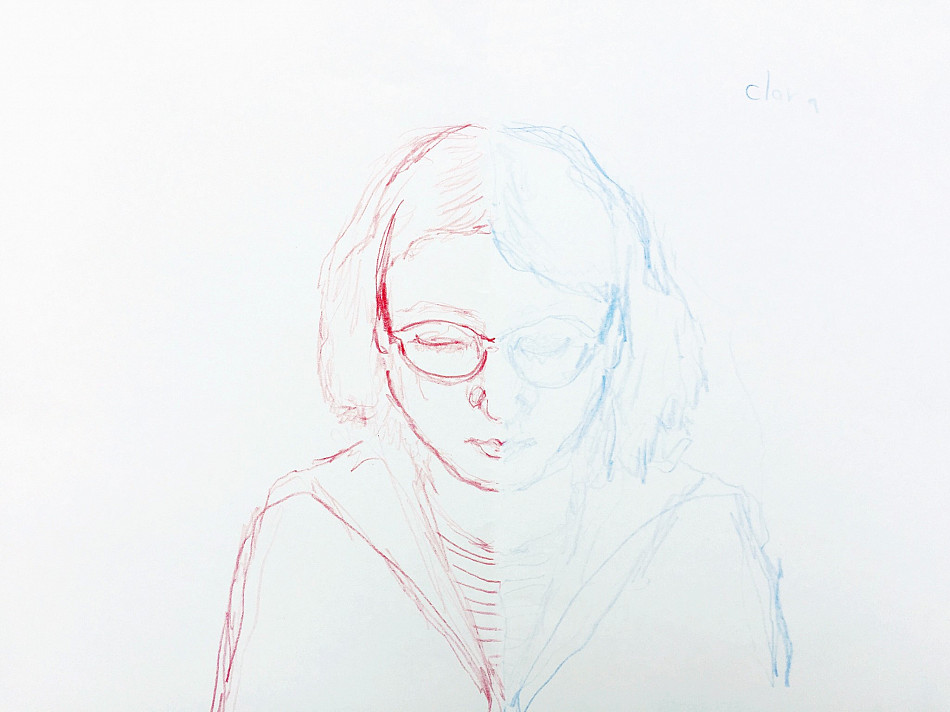 bauhaus_worksheet #10: Two-handed drawing
The Bauhaus instructor Johannes Itten assigned various drawing exercises to loosen up his students in the preliminary course. As a warm-up, he would instruct them to use both hands simultaneously to trace arcs and lines across the page. For this, they used charcoal and long rolls of brown packing paper. In the following exercise, we propose a similar challenge – to draw a person's portrait using both hands.

Download the bauhaus_worksheet #10.


You'll need
– a portrait model (friend or family member)
– two printouts of this worksheet or two clean DIN A4 sheets of paper
– pencils
– two red and two blue coloured pencils
– masking tape

Instructions

Print out two copies of this worksheet or use two clean DIN A4 sheets of paper.

Fold the sheets in half and unfold them again.

Trace a line along the fold with a pencil. This will divide the face into two halves.

Sit across from each other at opposite sides of a table.

Fix the paper onto the tabletop in front of you (in landscape orientation) with masking tape.

Hold the red pencil in your right hand and the blue in your left. Now draw a portrait of the person across from you using both your hands simultaneously. It's best to begin with an oval for the head and then proceed from top to bottom, first the hair, then the eyebrows, eyes, nostrils and so on.

Concentrate more on your model than the sheet of paper and try not to put your pencils down.

You can use a third colour for special features, like lopsided bangs, a beauty mark or hair clip.


Have fun!


Idea and concept: Julia Marquardt and Doro Petersen